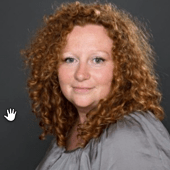 Stephanie Lang
Operations Director / Head of Public Partnerships – Directors
Stephanie studied Agriculture, then she found out that planning digital events and planning barns is basically the same, this is why she joined Super Crowd as Head of Public Partnerships and Project Manager in 2019.

Before she worked for Film- and Media-Festival GmbH which is responsible for the International Animation Film festival in Stuttgart. This leads her to the Media and Film Fund in Baden- Württemberg where she ran the Games Fund for over 9 years.
In Berlin she worked (2015-2019) for game-Association (former BIU) in the member service team for five years, this included doing the Pitch&Match at gamescom and she finally met Super Crowd. 
At Super Crowd she has a fancy title, this title includes but is not limited to: Working with institutional and governmental partners. She is also the project manager of the beloved Hamburg Games Conference.
One of our last projects - Hamburg Games Conference